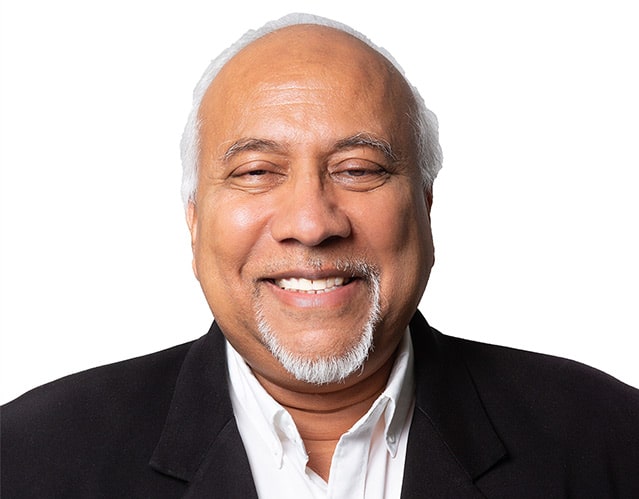 Shyam Salona
Chief Executive Officer
As Chief Executive Officer of REI Systems, company co-founder Shyam Salona spends his days focused on building a culture of empowered teams and developing the agility of our company. Shyam believes the work environment that he fosters within REI Systems is the most crucial factor in REI Systems' ability to build and deliver highly innovative solutions to our customers. Shyam looks at our company's success from multiple directions and always looks for new ways that REI Systems can continue to grow. Shyam's vision for the future of REI Systems is that REI's customers, peers, employees, and the community in which we live and work will trust the company to do what is right, to keep its word, and leave our customers, employees, and our community better off than before.   
Before co-founding REI Systems in 1989, Shyam spent several years developing information systems and technology products. In the decades since, he has led REI Systems to design and implement innovative web-based solutions for complex business processes. Shyam has delivered multiple mission-critical solutions to public sector customers. He is happiest when he sees these solutions help achieve those agencies' missions and improve millions of lives.  
Shyam received an M.S. in operations research at St. Stephen's College in Delhi, India, in 1977. He then earned a diploma for his graduate research in computer science at the Indian Institute of Technology, also in Delhi, in 1978. In 1980, Shyam moved to the U.S. to earn his M.S. in computer science from the Center for Advanced Computer Studies at the University of Southwestern Louisiana (Lafayette) in 1982. After completing his education, he worked as a consultant, manager, and engineer at several corporations. After his job as a principal engineer at Digital Equipment Corp in Nashua, NH, Shyam partnered with Veer Bhartiya to start REI Systems.
Outside the office, Shyam enjoys listening to music, hiking, reading, mentoring entrepreneurs, and spending time with his wife, Poonam, and their two grown daughters. 
Our People Are Our True Power.
REI's leaders are collaborators. Their passion shows with our company's focus, collaborating with agencies toward public missions, with employees toward technology breakthroughs, and with our diverse community to make it better for the least fortunate.